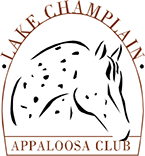 The Lake Champlain Appaloosa Club Est.1992 Clinton County, New York
The Lake Champlain Appaloosa Club was formed in 1992 to promote the Appaloosa Horse in the northeast. It is open to anyone with an interest in equines. We welcome equestrians of all disciplines and all breeds of horses. The LCAC offers a Saddle Log & Driving Log Program open to all breeds of horses. In our effort to promote the Appaloosa horse we hold a nationally pointed Appaloosa breed show and offer both Regional year awards as well as awards to Appaloosas that compete in open shows (holding classes that are pointed with LCAC) in our area. We also attend various equine functions to promote the Appaloosa.
Monday
February 19th, 2018
7:00 PM
Perkins Restaurant
Plattsburgh, NY
THE LCAC ALL BREED FUTURITY STALLION SERVICE AUCTION
IS CURRENTLY RUNNING. BIDDING ENDS JANUARY 20th, 2018
11:59 PM EST ON THE FACEBOOK FUTURITY GROUP PAGE.
VIEW OUR 2017
SPONSORS & SHOW
PROGRAM
2018 SUMMER CLASSIC
July 7th & 8th
2018 CLASS LIST
LCAC Club Information
Guide & Rule Book
2017 YEAR
END AWARDS
2016 BANQUET PHOTOS
& AWARD LIST