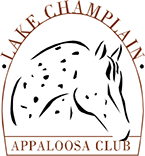 The Lake Champlain Appaloosa Club Est.1992 Clinton County, New York
Come join us as we celebrate our 26th Anniversary
of the Summer Classic in Plattsburgh, NY.
VIEW OUR 2017
SPONSORS & SHOW
PROGRAM
2018 CLASS LIST
2018 Judges:
Mike Bednarek
Michelle Nyberg
Ray Burchett
LCAC Membership Form
LCAC Club Information
Guide & Rule Book
Official Photographer
Cinderhawk Creative
Official Hotel
Days Inn & Suites
518-561-0403
Official Shavings
Duprey's Feed & Supplies
9748 State Route 9
Chazy, NY 12921-2337
2018 SUMMER CLASSIC July 7th & 8th
Photo by Cinderhawk Creative
Photo by Cinderhawk Creative
Photo by Cinderhawk Creative
Stall Reservations & Shavings - The stalls at these facilities are all dirt floors.
All reserved stalls must be pre-paid and is non refundable unless valid vet paperwork is provided.
The stall fee is $65. $15 will be refunded if stall is stripped clean. Shavings are $5.00 a bag.
To Reserve Stalls & Shavings Contact
Amanda Banker 518-937-1928 bankeramanda@hotmail.com
*All pre-entires must be post marked by June 25th, 2018
** Futurity classes are pre-entry only require a separate check that will be deposited prior to the show.
Open All Breed Futurity Classes Entry From:
LCAC Sponsorship Form
Join LCAC, Collect Sponsorships and earn credit off any of your show bill except national point fees.
View the clubs guide book for more credit details.